YOUR SEARCH: Zakynthos
filter results by:
SEARCH: displaying 1-1 of 1
1

Porto Zante De Luxe Villas is located on the island of Zakynthos, just west of Greece's mainland. Porto Zante is a boutique resort of luxury villas, located on the private beach of a secluded bay. Voted Greece's Leading Villa Resort for 2006 by the ...
more
Zakynthos
>
MEDITERRANEAN
>
Ionian Islands
>
Greece
>
europe
>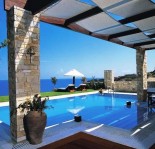 From EUR€ 500

SEARCH: displaying 1-1 of 1
1