YOUR SEARCH: Grenada
filter results by:
SEARCH: displaying 1-1 of 1
1

Mount Hartman Bay Estate is a luxury residence located on a private peninsular in Grenada. The bay is protected by coral reefs, and is one of the most beautiful and sheltered in the Caribbean.
The Estate House is sometimes described as ...
more
Grenada
>
CARIBBEAN
>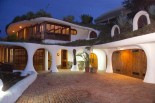 From UK£ 1145

SEARCH: displaying 1-1 of 1
1